Hello, I'm Dr. Huy Do, and welcome to Dental Fabulous. On behalf of myself and my staff, I would like to offer my warmest thanks for your interest in our practice. I would also like to take this opportunity to tell you a little about myself and about Dental Fabulous.
I am proud to say that our philosophy here at Dental Fabulous stems from a desire to provide unparalleled personal service for you, the patient.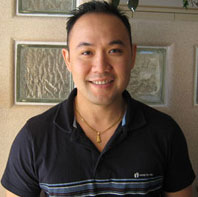 A Little About Myself
I was born in Nha Trang, Vietnam, a beautiful beach city in the middle region of Vietnam. Upon coming to the United States in 1980, I was very fortunate when my parents decided to settle in another beautiful beach city, San Diego. California is very much considered home to me, having lived here the majority of my life, and there is no other place I'd rather be.
My formal education began after graduating from high school in San Diego. I continued my studies at the University of California, Los Angeles (UCLA, Go Bruins!!), earning my Bachelor of Science degree in Biochemistry, and also my Master of Science degree in Oral Biology, which specializes in the scientific research of dentistry. My studies then took me across the country to the Big Apple, where I earned my Doctorate of Dental Surgery degree at New York University (NYU) College of Dentistry. In addition to obtaining my DDS degree, I received an extra year of advanced dentistry training working in a hospital affiliated with The New York Hospital-Cornell Medical Center. Through this extensive training program, I have obtained an immeasurable amount of experience in the areas of Cosmetic, Reconstructive, and Surgical Dentistry.
Although I have already completed an advanced dentistry residency program, I am always striving to further my understanding and education in dentistry. I am a member of the Academy of General Dentistry (AGD), an organization committed to Continuing Education for dentists. This is an area which I am very passionate about, and I have dedicated many hours taking additional advanced courses to further my knowledge of the Function and Cosmetics of Dentistry. I feel that this not only enriches myself but also allows me to provide the best service and treatment for my patients.
Our Commitment to You
Here at Dental Fabulous, our primary goal is to provide you, the patient, with an excellent dental experience in a modern, relaxed, and friendly environment.
We are committed to providing each patient with the attention and respect they deserve to make each visit as comfortable as possible. I am also committed to providing my patients with the most advanced procedures to maintain their optimum dental health, and also to enhance their smile, making it as beautiful as YOU want it to be. I encourage you to stop by and meet me personally, as well as to tour our facility and to meet the rest of the Dental Fabulous team.
I look forward to earning your trust and developing a relationship as your dental health provider. Thank you again for your interest in Dental Fabulous.
Sincerely,
Dr. Huy Do MS DDS